Brush Chipping Service In Madbury, NH
Are you living with overgrown trees, shrubs, and bushes on your Madbury property? We get it. Pruning, trimming, or removal is one thing, but dealing with the resulting brush and branches can be a real headache. It's not just about the mess—it's also about the potential hazards that come with it.
At Phil's Tree Service Seacoast, we feel your frustration. Dealing with the unwanted brush should be easy. As certified forestry professionals, we believe in making life easier for you. That's why we offer top-notch brush-chipping services in Madbury, NH.
The Trouble with Unwanted Brush
When left unattended, unwanted brush and branches can cause quite a few problems for homeowners:
Aesthetics
Piles of brush can quickly turn a beautiful yard into an unsightly mess. They can spoil the view and possibly affect your property value.
Safety
Brush piles can be a safety hazard. They can become a haven for pests or fire hazards, especially during the drier months.
Logistics
Disposing brush isn't as simple as tossing it in the bin. Without the proper equipment or vehicle, transporting large amounts of it for disposal can be challenging and time-consuming.
The Perks of Professional Brush Chipping Services
You can say goodbye to these problems with Phil's Tree Service Seacoast. Our professional brush chipping offers a host of benefits:
Saves Time
Forget about spending hours trying to dispose of your brush. We handle the entire process, from start to finish, freeing up your time for things that matter more to you.
Keeps Your Property Tidy
By chipping your brush on-site, we prevent any mess from spreading around your property. The result? A clean, tidy yard that you can be proud of.
Ensures Safety
Our team of professionals follows strict safety protocols during the chipping process. We take every precaution to minimize any risk to you or your property.
Why Choose Phil's Tree Service Seacoast?
So, what sets us apart from the rest? Here are three reasons why we're the go-to choice for brush-chipping services in Madbury, NH:
We have invested heavily in a top-tier fleet of equipment for all kinds of tree services, including brush chipping. This means we can handle jobs of any size, big or small.
As a company owned and operated by a full-time fireman, we know the importance of safety. We follow stringent safety practices during all our operations, ensuring our team and the people living and working around the property are safe.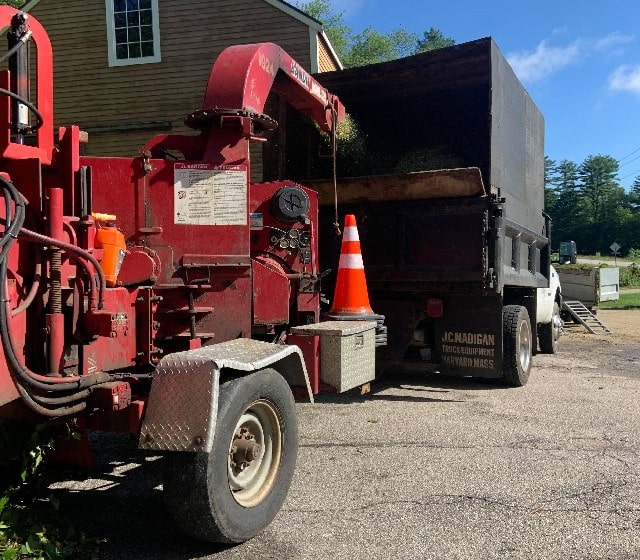 Our credentials speak for themselves. With a degree in forestry, we have the knowledge and expertise to handle your brush-chipping needs professionally and efficiently.
A Cleaner, Safer Property is Just a Call Away
Ready to get rid of that unwanted brush? Here's how to do it with us:
Fill out our contact form or call us, letting us know about the brush you want us to chip.
Don't let unwanted brush turn your yard into an eyesore or a safety hazard. You can enjoy a cleaner, safer property without hassle with Phil's Tree Service Seacoast. Reach out to us today to learn more about our professional tree services.
We offer the best services. Don't believe us? Hear from real people!
Phil did an amazing job removing a large dead oak tree that was very close to the house. He was safe, friendly, reliable, and competitively priced. I was impressed with how wonderfully clean he left the surrounding area. One would have never known a tree was removed. We will definitely use him in the future!
Phil was quick to assess and provide estimates for two separate instances of a down tree. In both cases, the trees fell into my neighbor's yard. Phil and his team were thoughtful in their approach, extremely organized, and left the areas spotless. They took great care not disrupt the surrounding yard. Their job was so well-executed, it even cost less than the estimate! I highly recommend Phil's Tree Service!