Tree Removal With Crane In Lee, NH
Tree crane removal is the best way to do it. We bridge the gap between old fashioned methods and modern practices. The way we remove trees takes a fraction of the time, is safer, and has a smaller impact on your property and surroundings.
Expert Crane Assisted Tree Removal In
New Hampshire
At Phil's Tree Service Seacoast, we protect your property, and it is our number one priority. Our expert crane operators are trained to prevent an emergency from turning into a disaster in NH. We are committed to providing real solutions that make sense and save you money, call us at (603) 762-3805 or fill out the form and we will get back to you.
The Tree Removal Crew Will
Survey The Site Upon Arrival
The crane tree removal crew will survey the site upon arrival and during their pre-work meeting, they will determine the best area for the tree crane to be set up. Multiple factors will be taken into consideration. Elevation/grade changes, overhead obstacles, etc.
Operators will level the crane while preparing the wood blocks and steel hydraulic jack to provide additional height and support when lifting trees. When it comes to tree removal with crane, we've got you covered. Keeping your grounds safe is our specialty. We'll remove any tree, big or small. From oaks with trunk diameters as big as 18 feet to three-inch pin oaks.
When it comes to tree service with crane in New Hampshire, Phil's Tree Service Seacoast is committed to preserving your property and leaving it in pristine condition. We pledge to save and preserve the natural environment as we strive to leave no sign of our presence except the tree that's been taken down! We guarantee to be competitive in both work qualities and the budget to suit your requirements best.
We help you safely remove hazardous trees and eliminate risks! Rely on us for safe tree removal with crane in New Hampshire. 
Phil did an amazing job removing a large dead oak tree that was very close to the house. He was safe, friendly, reliable, and competitively priced. I was impressed with how wonderfully clean he left the surrounding area. One would have never known a tree was removed. We will definitely use him in the future!
We help you safely remove hazardous trees and eliminate risks! Rely on us for safe and systematic tree removal service.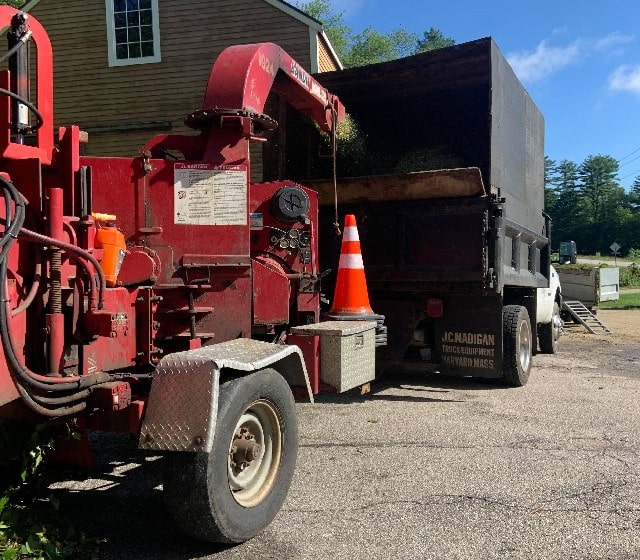 We help you add more usable space in your yard and make it look more appealing to look at after tree trimming and removal.