When it comes to taking care of your home's trees, you want to be sure that you're working with a reliable and experienced team. Here in Durham, NH, Phil's Tree Service Seacoast experts are ready to take on your tree removal and care needs.
If you're looking for Tree services in Durham, NH, we are here for you. We have more than 10 years of experience, and we'll make sure your trees are healthy and looking their best. So if you need tree removal or care services, we are the way to go, so don't hesitate to give us a call. We promise you won't be disappointed.
Benefits From Hiring Our Tree Care Services
Hiring our tree care services can provide several benefits for you and your trees. Here are some of them:
Our services can provide the necessary pruning, fertilization, and watering to keep your trees healthy and looking fresh and stunning.
Our services can also help you protect your home from damage caused by falling branches or overgrown trees. 
With our tree services, you can improve the value of your home by increasing curb appeal and making your property more appealing to potential buyers in the future.
Finally, hiring our tree removal services can save you time and money long-term by preventing the need for costly repairs or replacements.
Why Choose Us?
Working with us at Phil's Tree Service Seacoast, you can expect the best service and experience. But we can also guarantee the results to be top-notch. This is why you should know the main reasons to choose us for your tree care services:
+10 Years Experience
We've been in the industry for over 10 years, which has given us all that's needed to provide reliable tree removal services. Our goal is always to do our job on time and provide excellent customer service, so we can guarantee that your project will be taken care of right from the first time.
Forestry Certification
When it comes to tree services, you want to ensure you're working with a company that knows what they're doing. We're proud to have our Forestry Certification at Phil's Tree Service. This means that we've been trained and certified in the best practices for tree care. We know how to properly prune and care for trees and always put the tree's health first.
Quality Equipment
At Phil's Tree Service, we pride ourselves on having the best equipment and the latest technology in the business. We are providers of high-quality service to our clients. And because we are always up-to-date on the latest advancements in tree care, you would be making the best decision when choosing us for your tree service needs.
At Phil's Tree Service Seacoast, we're not just good at what we do—we're certified, insured, and have a wealth of experience:
Our team comprises certified arborists with a degree in Forestry. This way, you can validate our knowledge and skills in handling storm-damaged trees.
We're fully insured, which gives our clients peace of mind knowing they're covered should anything unforeseen occur. It's just one more way we put our clients' needs first.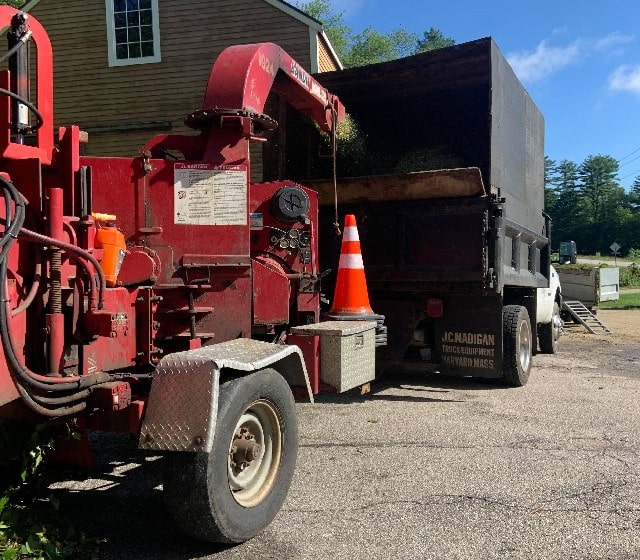 With years of experience serving the Madbury, NH, area, we're no strangers to the unique challenges that local trees can present. Our deep understanding of the local environment allows us to provide the best possible tree removal services.
Trust Your Tree Care to Phil's Tree Service Seacoast
We are passionate about trees and taking care of them at Phil's Tree Service. We have many years of experience in tree care, and we are committed to providing the best possible service to our customers. We know the importance of trees in the environment and the need to protect them.
We offer our customers a wide range of services, including tree removal, tree trimming, tree pruning, tree planting, and tree care advice. We are proud to be the best choice for your tree care needs in Durham, NH. Your trees will be well-cared for and protected if you work with us. Learn more about how we will help you take care of your trees.
We offer the best services. Don't believe us? Hear from real people!
Phil did an amazing job removing a large dead oak tree that was very close to the house. He was safe, friendly, reliable, and competitively priced. I was impressed with how wonderfully clean he left the surrounding area. One would have never known a tree was removed. We will definitely use him in the future!
Phil was quick to assess and provide estimates for two separate instances of a down tree. In both cases, the trees fell into my neighbor's yard. Phil and his team were thoughtful in their approach, extremely organized, and left the areas spotless. They took great care not disrupt the surrounding yard. Their job was so well-executed, it even cost less than the estimate! I highly recommend Phil's Tree Service!