Tree Removal After Storm Damage In Madbury, NH
Have you ever found yourself staring at a storm-ravaged tree in your backyard, not knowing where to start? The fallen branches and the looming threat of further damage can all feel like too much. The challenges are many – from evaluating the extent of the damage to ensuring safe removal and clean-up.
At Phil's Tree Service Seacoast, we understand your concerns. You shouldn't have to do it alone. With over ten years of experience, we're here to help you navigate this difficult situation with our expert tree removal services in Madbury, NH. We'll make your property safe and sound again!
Swift & Efficient Storm Damage Tree Removal
When thunder leaves your trees in ruins, you need a trustworthy service. At Phil's Tree Service Seacoast, our storm-damaged tree removal process is as meticulous as it is efficient:
1. Assessment of the Situation
We evaluate the extent of the damage and identify potential risks. Our expert team focuses on the safest and most efficient way to tackle the damage. This crucial first step ensures we're well-prepared to handle the task.
2. Remove the Damaged Trees
Equipped with the right tools and knowledge, we easily navigate tricky spots and handle heavy loads. Our priority is to minimize any additional damage to your property during the tree removal process.
3. Clean & Secure
We go the extra mile to remove all debris and ensure no hidden hazards are left behind. When we leave, you can rest assured knowing your property is safe and tidy.
Comprehensive Storm Clean-Up Services
When it comes to storm clean-up, we offer a comprehensive suite of services designed to address all your needs, including:
Immediate damage assessment

Best recommendations on the actions to be carried out

Removal of tree and stump

Repairing braced or cabled trees

Pruning away damaged and hazardous limbs of the tree
At Phil's Tree Service Seacoast, we're not just good at what we do—we're certified, insured, and have a wealth of experience:
Our team comprises certified arborists with a degree in Forestry. This way, you can validate our knowledge and skills in handling storm-damaged trees.
We're fully insured, which gives our clients peace of mind knowing they're covered should anything unforeseen occur. It's just one more way we put our clients' needs first.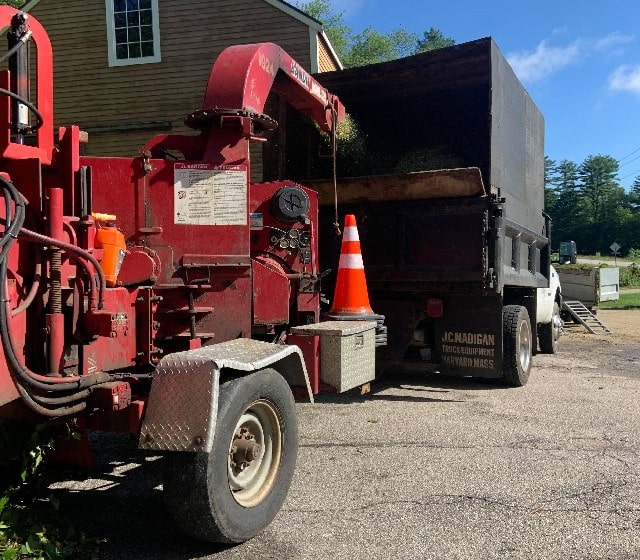 With years of experience serving the Madbury, NH, area, we're no strangers to the unique challenges that local trees can present. Our deep understanding of the local environment allows us to provide the best possible tree removal services.
Restore Safety & Peace of Mind with Phil's Tree Service Seacoast
Overcoming the aftermath of a storm doesn't have to be overwhelming. You can restore your property's safety and peace of mind with Phil's Tree Service Seacoast. Here's how we can help:
Fill out our contact form or call us and let us know about the location and condition of the fallen tree.
We'll bring our specialized equipment and clean up the fallen tree if necessary.
Don't let the aftermath of a storm cause you more stress. With Phil's Tree Service Seacoast, you can look forward to swift, professional tree removal services in Madbury, NH, prioritizing your safety and peace of mind. Reach out for a free consultation or estimate today!
We offer the best services. Don't believe us? Hear from real people!
Phil did an amazing job removing a large dead oak tree that was very close to the house. He was safe, friendly, reliable, and competitively priced. I was impressed with how wonderfully clean he left the surrounding area. One would have never known a tree was removed. We will definitely use him in the future!
Phil was quick to assess and provide estimates for two separate instances of a down tree. In both cases, the trees fell into my neighbor's yard. Phil and his team were thoughtful in their approach, extremely organized, and left the areas spotless. They took great care not disrupt the surrounding yard. Their job was so well-executed, it even cost less than the estimate! I highly recommend Phil's Tree Service!