Tree Service With Chipper
Are you tired of assembling and hauling all the wood chips left behind after tree work? It's understandable if you are – it can be a tedious job, not to mention potentially dangerous! You shouldn't have to risk your safety or neglect your landscape's look, so it's important to search for professionals who can help you simplify this task.
That's when Phil's Tree Service Seacoast comes in! We understand that having trees cut down or trimmed on your property can create quite a mess. But don't worry; our tree chipper service can make this chore much easier. Our experienced team offers quick, efficient services at competitive prices, so why wait? Achieve efficient debris disposal today!
Our
Tree Service With Chipper

Can Help You Increase Safety!
Did you know that chipping your tree debris reduces fire risks? It's true! Wood chips can act as a fire buffer, so keeping your property clear of large wood chunks is important. Plus, chipping is the best way to ensure that all of the debris from tree work is disposed of properly. So if you're concerned about safety, our tree chipper service is something you can't miss.
Trust Our
Skilled Technicians

to Ensure Efficient Debris Elimination
You deserve to have a clean and safe property. With Phil's Tree Service Seacoast, you can rest assured that your debris disposal needs will be handled by professionals who know how to do the job right. We offer tree service in New Hampshire with wood chippers to remove any mess efficiently and safely without damaging the surrounding area. 
Contact Our Tree Services to
Enhance Your Property's Landscape
Whether you recently had tree maintenance or a storm caused damage to your trees, it's important to address the debris immediately. You want your landscape to look as good as new, but it can be complicated to achieve this if you don't have the right tools and experience for the job. You can count on Phil's Tree Service Seacoast and our wood chipper service in New Hampshire.
Just follow these steps to get the services you need:
If you don't address your debris or any other issue your trees have, you risk having them fall or cause other damages. Don't take the risk! Contact us today and benefit from our wood chipper services in New Hampshire. We can help you improve the safety of your property and make it look great again.
Phil did an amazing job removing a large dead oak tree that was very close to the house. He was safe, friendly, reliable, and competitively priced. I was impressed with how wonderfully clean he left the surrounding area. One would have never known a tree was removed. We will definitely use him in the future!
We help you safely remove hazardous trees and eliminate risks! Rely on us for safe and systematic tree removal service.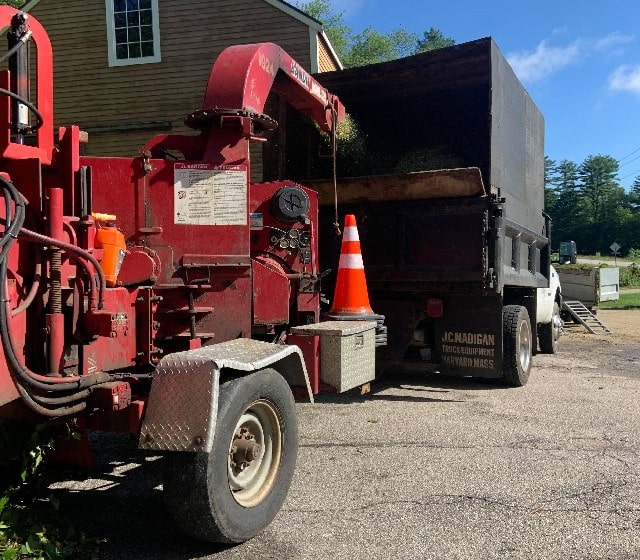 We help you add more usable space in your yard and make it look more appealing to look at after tree trimming and removal.